These Biscoff Butter Cookies incorporate a soft and buttery shortbread biscuit piped into a swirl held together with a generous scoop of Biscoff spread.
Baking with Biscoff is one of my favourite pastimes, as evidenced by the plentiful amount of Biscoff recipes featured on Ella's Better Bakes. My Biscoff Millionaires Shortbread is hugely popular as are my Biscoff And Chocolate Truffles.
These Biscoff Butter Cookies might look very much like Vienesse Whirls but they are in fact more like shortbread in taste and texture. Lotus Biscoff Spread is incorporated in the Biscoff Cookies themselves as well as in between them.
Jump to:
Why make these Biscoff Butter Cookies?
Light and buttery cookie✔️
Lotus Biscoff spread throughout ✔️
Really easy to make✔️
Keep for up to a week✔️
Ingredients
Biscoff spread
Plain (all-purpose) flour
Golden caster sugar
Egg
Vanilla extract
Fine salt
Unsalted butter
Milk
Icing (confectioner's) sugar
Instructions
See end of post RECIPE CARD for precise quantities and instructions.
Beat your butter until soft and then beat in your caster sugar and Biscoff spread until light and fluffy.
Add your egg and vanilla extract and beat until combined.
Add your flour and salt and beat in on a low setting then turn up to medium-high and give a final beat to ensure all of the mixture is incorporated.
Add your milk and beat until paste-like. Tip: test a little in your piping bag first, if too stiff to pipe return to the bowl and add a little more milk.
Fill a large piping bag fitted with a large star nozzle and then pipe swirls onto a lined baking sheet, then chill for at least 30 minutes.
Bake for 10-15 minutes until just starting to turn golden. Leave to cool on the baking sheet for 5 minutes and then move to a cooling rack to cool fully,
Spread Biscoff spread over one half of a cookie, making sure you don't go right up to the edge, sandwich another cookie on top and squeeze gently to secure. Sift over a little icing (confectioner's) sugar.
Hint: before you start, check your fridge for space! I speak from experience here having often made cookies that need to be chilled only to realise my fridge is way too packed to accommodate them!
Did you try this recipe?
Please leave a ⭐⭐⭐⭐⭐ rating in the Recipe Card below.
Substitutions
Don't have all of the ingredients listed for these Biscoff Butter Cookies? Don't worry, here are some substitutions:
Lotus Biscoff spread - can be replaced with whatever spread you prefer, such as Nutella or salted caramel spread.
Golden caster (superfine) sugar - I tend to use golden caster sugar in recipes when I want a touch of caramel sweetness and a darker colour, but normal white caster sugar will work just as well.
Unsalted butter - replace with salted butter, but half the amount of fine salt added.
Variations
For extra Biscoffiness, simply melt 2 tablespoons of Biscoff spread in a microwavable bowl in your microwave for 10 seconds, until quite runny.
Then, rather than sandwich the Biscoff Butter cookies together, dip half of a single Biscoff biscuit into the melted Biscoff spread, wipe the drips from the base off and then place the cookie onto a sheet of greaseproof paper to set.
Sprinkle with some crushed Lotus Biscoff biscuits.
Storage
These Biscoff Cookies will keep for up a week in an airtight container if refrigerated.
At room temperature, they are fine for up to 5 days.
Once cooled the cookies can be frozen and should be consumed within 2 months.
Top tips
Chilling the butter cookies once they've been piped is vital for the success of this Biscoff Butter Cookie recipe. This does two things, firstly it ensures that the cookies retain their piped shape and secondly it stops them from spreading and flattening when baking.
Secure your greaseproof (parchment) paper before piping by placing a little cookie dough in each corner of the underside of the paper. As the cookie dough is quite stiff it will pull at the paper when you lift the piping bag, this little tip helps to prevent that.
To ensure each cookie is the same size draw circles measuring 4cm on the reverse side of your greaseproof (parchment) paper, so that you can still see the circle when you turn the paper over. Or, simply eyeball it (which is what I tend to do!).
In case your Biscoff cookies spread when baking, leave a gap of an inch between each piped cookie.
Piping Biscoff Butter Cookies
Piping can be a little tricky at first and definitely improves with experience.
To successfully pipe your Biscoff cookies try these Tips:
Only half fill your large piping bag, and then refill when used, this will give you greater control.
Use a large piping nozzle, with at least a ½ inch gap at the top, the dough simple won't flow through a smaller nozzle. I use a 1M nozzle, a 6B nozzle is also perfect.
Add cookie dough to your piping bag a spoonful at a time, ensuring that you squeeze out any air bubbles as you go, otherwise the air will break the stream as you pipe.
Hold your piping bag directly above your baking tray, totally vertical, and with medium pressure, squeeze down to pipe a star, then, not breaking the flow, move the bag around the side of the star. This video demonstrates the technique.
Linked Recipes
Ella's Better Bakes contains many Biscoff recipes, such as:
This recipe has been so popular! It comprises a Biscoff biscuit base layer, a caramel filling and a Biscoff and chocolate topping.
Pretty little Biscoff cupcakes, with a deliciously soft and creamy Biscoff buttercream.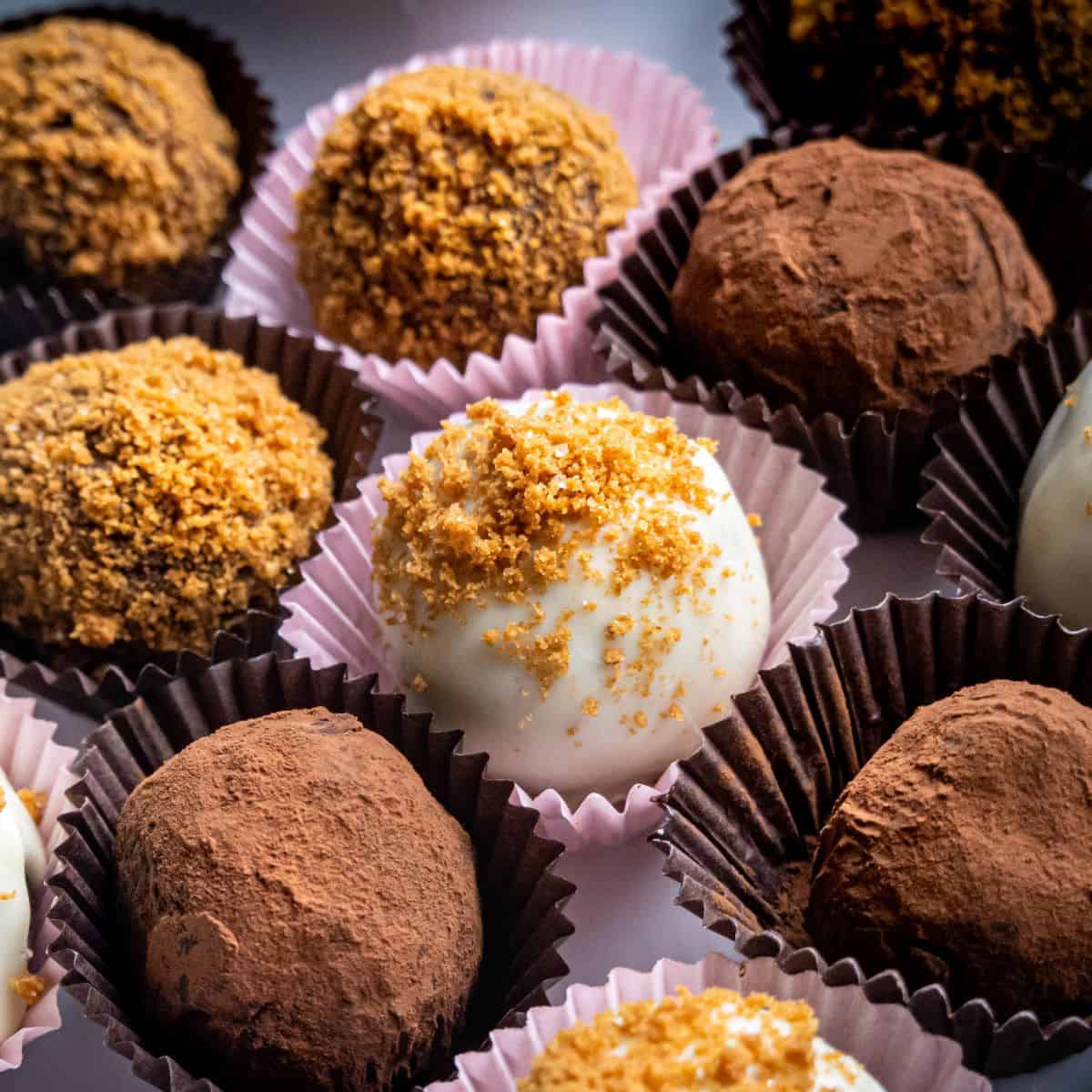 Chocolate truffles with a streak of Biscoff through the centre and covered in Biscoff or white chocolate.
📖 Recipe
Biscoff Butter Cookies
Swirly, soft and shortbread-like Biscoff Butter Cookies sandwiched together with a generous layer of Biscoff spread. Biscoff heaven!
Rate this Recipe
Alter quantities (metric only)
20
cookies
Here's what you'll need...
Ingredients you'll need...
Biscoff Butter Cookies
200

g

Unsalted butter

softened (16 tablespoons)

100

g

Golden caster sugar

(½ Cup)

2

tablespoon

Biscoff spread

1

Large egg

2

teaspoon

Vanilla extract

280

g

Plain (all-purpose) flour

(2 Cups)

¼

teaspoon

Fine salt

1-2

tablespoon

Milk
Biscoff Spread Filling
200

g

Biscoff spread

(½ a jar of Biscoff spread)

2

teaspoon

Icing (confectioners') sugar
Here's what we do...
Line your baking sheet with greaseproof (parchment) paper.

With the paddle attachment fitted (or beaters if using a hand mixer), beat your butter a few times to ensure soft enough, it will stick to the outside of the bowl rather than clumping around the paddle when ready.

Add your caster sugar and Biscoff spread and beat together until soft, paste-like and airy, this can take up to a couple of minutes to achieve.

Add your egg and vanilla extract and beat in on a low setting until incorporated. Wipe down your bowl with your spatula in-between, to ensure that all of the mixture from the sides and base of the bowl is incorporated.

Still on a low setting, tip in your flour and salt together and beat until fully mixed in.

Beat in a tablespoon of your milk, again wipe down with a spatula and then give the mixture a whizz on medium-high for up to 10 seconds to ensure fully incorporated.

Fit your large piping bag with your large star piping nozzle and fill with about 3 tablespoons of cookie dough, so that you can test the consistency for piping.

Pipe a swirl of cookie dough onto your lined baking sheet, if it pipes easily then add the rest of your cookie dough and continue to pipe until you have 40 swirls. To pipe, hold the bag vertically above the tray and squeeze a star of dough onto the tray, without breaking the stream of dough continue to squeeze steadily and you move the bag around the star to form a swirl pattern.

If the dough is too stiff to pipe simply return it all to your bowl, beat in another tablespoon of milk and try again.

Refrigerate your cookies for 30 minutes before baking.

Heat your oven to 160°C Fan/180°C/350°F/Gas mark 4.

Bake in the centre of your oven for 10-15 minutes until just starting to turn golden around the edges.

Leave to cool on the tray for 5 minutes, then remove to a cooling rack to finish cooling.
Biscoff Topping
Once cool spread a teaspoonful of Biscoff spread onto the base of one cookie, place another on top and squeeze gently to secure.

Using your tea strainer or fine sieve, sift over a little icing sugar to decorate.
Share on Facebook
Pin Recipe
Share on Twitter
Make Your own Notes on this Recipe here...